Zoisite Mood Theme for LiveJournal (zipped). Contains 98 different pics (for the 144 moods available), and a "how to" file to simplify the upload of the mood theme to your LJ. Beware : only paid account users can use custom mood themes. Sample below (the mood theme contains 98 different pics - 60x60 pixels, .gif format)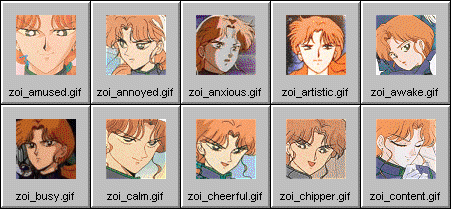 Disclaimer :
This mood theme is for non-commercial use only, Sailormoon and the character Zoisite are the property of Naoko Takeuchi.
Most of these pics are coming from the anime, the majority of it from scans I've done of my anime-comics, a few others are from screencaps from Stayka DeyAvemta's Dark Kingdom Home
Pics for the moods : "apathetic" / "blank" / "exanimate", "giddy", "mellow" are coming from doujinshi scans I've found on various places on the web and can't remember, sorry.
Pics for the moods : "dorky", "naughty" are from Soylent Green's fanart, on her site :
The Scrumdiddlyumptious Dark Kingdom Love Revival
Pics for the moods : "enthralled", "horny", "lethargic" are my fanart.
The pic for the mood "geeky" is from a video game screencap floating around on the net (sorry I can't remember where I got it from).
The pic for the mood "lazy" / "listless" comes from the manga.
Hall of Shame : this is not really an homage... Just random cross-over deliriums that didn't fit anywhere else on the site...